Sistema de rehabilitación basado en una férula electrónica para recuperación de lesiones de muñeca y nervio radial
Palabras clave:
Férula Electrónica, Electroestimulación, Lesiones de Nervio Radial, Rehabilitación, Lesiones de Muñeca
Resumen
En este trabajo, se presenta un sistema de rehabilitación basado en una férula electrónica para personas que han sufrido lesiones del nervio radial. El sistema se compone de dos partes: la férula electrónica y el electroestimulador. La electroestimulación se realiza utilizando corriente eléctrica controlada a una frecuencia de 18 a 83Hz con un tren de pulsos triangular con una intensidad de 7mA. La férula se ha realizado con acero quirúrgico y materiales textiles para que sea más cómoda para el paciente. La férula se mueve de arriba a abajo y de izquierda a derecha mediante servomotores controlados por Matlab. La información del sistema de rehabilitación se almacena en una base de datos para ser analizada, incluso de forma remota, por un fisioterapeuta.
Descargas
La descarga de datos todavía no está disponible.
Citas
Andrade Holguín, P. A. (2016). Diseño y prototipado rápido de una prótesis de pierna y pie para personas con capacidades especiales. B.S. thesis, Escuela Politécnica Nacional, 2016.

Asensio-Pinilla, E., Udina, E., Jaramillo, J., & Navarro, X. (2009). Electrical stimulation combined with exercise increase axonal regeneration after peripheral nerve injury. Experimental neurology, 219(1), 258–265.
Barton, N. (1973). Radial nerve lesions. Hand, 5(3), 200–208.

Bumbasirevic, M., Palibrk, T., Lesic, A., & Atkinson, H. D. (2016). Radial nerve palsy. EFORT open reviews, 1(8), 286–294.

Colditz, J. C. (1987). Splinting for radial nerve palsy. Journal of Hand Therapy, 1(1), 18–23.

Espinoza Morán, A. (2014). Diseño y elaboración de una prótesis de mano electrónica para personas con discapacidad física transradial, controlada inalámbricamente con el pie. Master's thesis, Universidad Católica Santiago de Guayaquil.

Lowe, J. B., Sen, S. K., & Mackinnon, S. E. (2002). Current approach to radial nerve paralysis. Plastic and reconstructive surgery, 110(4), 1099–1113.

Marqueste, T., Alliez, J.-R., Alluin, O., Jammes, Y., & Decherchi, P. (2004). Neuromuscular rehabilitation by treadmill running or electrical stimulation after peripheral nerve injury and repair. Journal of Applied Physiology, 96(5), 1988–1995.

Microchip (2003). Single Dual Digital Potentiometer with SPI Interface. Microchip Technology Inc. "Retrieved from http://ww1.microchip.com/downloads/en/devicedoc/ 11195c.pdf".

Niver, G. E., & Ilyas, A. M. (2013). Management of radial nerve palsy following fractures of the humerus. Orthopedic Clinics of North America, 44(3), 419 – 424.

Parry, C. W., Salter, M., & Millar, D. (1981). Rehabilitation of the Hand. Butterworths.

Pearson, S. O. (1984). Splinting the nerve injured hand.

Hunter JW, Schneider LH, Mackin EJ, Callahan A: Rehabilitation of the Hand. St. Louis, CV Mosby Co, p. 455.

Pia-Garza, J. E., & James, K. C. (2019). 13 - monoplegia. In Pia-Garza, J. E., & James, K. C., editors, Fenichel's Clinical Pediatric Neurology (Eighth Edition), pp. 271 – 277. Elsevier, Philadelphia, eighth edition edition.

Pombo, F., Rodríguez, B., Brunet, P., & Requena, B. (2004). La electroestimulación, entrenamiento y periodización, aplicación práctica al futbol y 45 deportes. Barcelona, Editorial Paidotribo, pp. 33–39.

Rodrigues, T., Winckler, P. B., Fe ́lix-Torres, V., & Schestatsky, P. (2016). Simultaneous median–radial nerve electrical stimulation revisited: an accurate approach to carpal tunnel syndrome diagnosis and severity. Journal of Clinical Neurophysiology, 33(6), 554–559.

Romero Erazo, B. M. (2016). Diseño de prototipos tridimensionales de prótesis externa para reemplazo de pierna y pie por amputación infragenicular en humanos. B.S. thesis, Escuela Superior Politécnica de Chimborazo.

Vlez, M. K. (2017). Historia de la fisioterapia en Ecuador, volume 1. Universidad de las Américas.

Willand, M. P. (2015). Electrical stimulation enhances reinnervation after nerve injury. European journal of translational myology, 25(4), 243.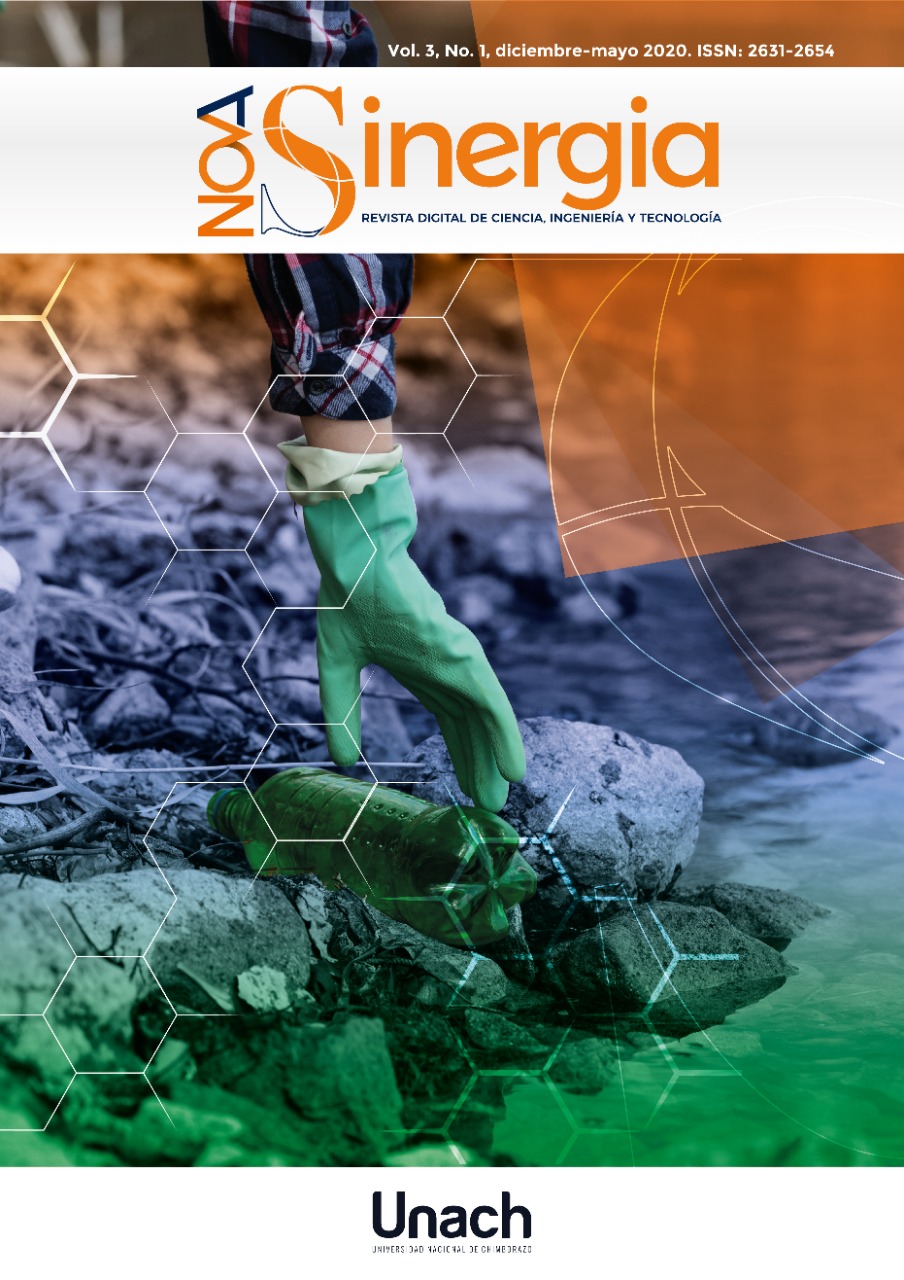 Cómo citar
Palacios, C. A., Jínez, J., López, M. J., Guananga, D., & Vinueza, A. (2020). Sistema de rehabilitación basado en una férula electrónica para recuperación de lesiones de muñeca y nervio radial. NOVASINERGIA, ISSN 2631-2654, 3(1), 54-61. https://doi.org/10.37135/ns.01.05.06